Welcome to the eleventh
Monday Blues Blog Hop
hosted by Christa from
ChrissyAi.com
, Jayne from
CosmeticProof.com
and yours truly from
drinkcitra.com
! Just in case you're wondering what happened to the blog hop last Monday, we have decided to host the Monday Blues Blog Hop every other Monday.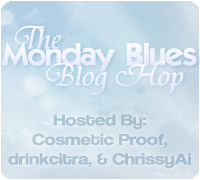 If you are interested in being a co-host for future blog hops, please email us at:
mondaybluesbloghop(at)gmail(dot)com
Those interested will be accepted at a first-come, first-served basis.