Welcome to the third
Monday Blues Blog Hop
hosted by
Christa from ChrissyAi.com
,
Jayne from CosmeticProof.com
and me,
Traci from drinkcitra.com
! For those of you who have joined the past two blog hops, thank you for participating! I've yet to go through everyone's blogs, but I have definitely found some amazing bloggers through this blog hop and I look forward to keeping up with everyone's posts :)
For more information about The Monday Blues Blog Hop, please visit this link
here
. This week
Ellie
and
Bea
will be co-hosting the blog hop! Thank you both for joining us!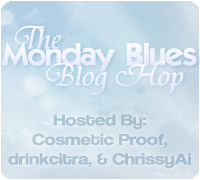 If you are interested in being a co-host for future blog hops, please email us at:
mondaybluesbloghop(at)gmail(dot)com
Those interested will be accepted at a first-come, first-served basis.