You can see our first Monday Blues Blog Hop post
here
.
Thank you to all of you who joined our first blog hop! You all made it a great and successful first hop! If you had fun with it last Monday, please don't hesitate to join this week's hop! This week we will be having our first two Co-Hosts! Woo hoo! Thank you
Samara
and
Ashley
for joining us!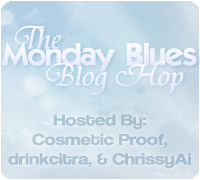 If you are interested in being a co-host for future blog hops, please email us at:
mondaybluesbloghop(at)gmail(dot)com
Those interested will be accepted at a first-come, first-served basis.