We know Mondays can sometimes be a drag so we are here to take those Monday blues away with The Monday Blues Blog Hop!
What is a Blog Hop?
Simply put, a blog hop is where you can hop from one blog to another to explore and discover other blogs. Blog hops make it easy to visit other participating blogs, and allows others to, in turn, discover your blog. The more you participate (by visiting others and really interacting with other bloggers) the more fun and successful the blog hop!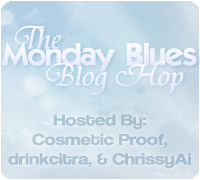 If you are interested in being a co-host for future blog hops, please email us at:
mondaybluesbloghop(at)gmail(dot)com
Those interested will be accepted at a first-come, first-served basis.
Let's make this a fun Monday!